Potential causes of subfertility in patients with intramural fibroids
Fertility Research and Practice
2015
1:12
Received: 1 June 2015
Accepted: 19 August 2015
Published: 25 August 2015
Abstract
Background
Intramural leiomyomas have been long debated as a potential cause of infertility and pregnancy loss.
Findings
Previous research has linked intramural fibroids to defective implantation, as well as to abnormal peristaltic events of the uterine smooth muscle. Previous reports describe the effects of intramural fibroids on normal human fertility and early pregnancy loss, specifically in regards to implantation failure.
Conclusion
A thorough understanding of prior research may direct new research focus, leading to better understanding of leiomyoma-associated infertility.
Keywords
LeiomyomaFibroidsImplantationUterine peristalsisPseudocapsule
Introduction
Uterine leiomyomas, or fibroids, can occur in up to 60 % of women before the age of 40, and 80 % of women before the age of 50 [1]. Fibroids may be the sole cause of infertility in 2–3 % of women [2]. Studies suggest an association between the presence of submucosal fibroids and subfertility and pregnancy loss, however the reproductive sequelae of intramural fibroids are even less clear [3]. Some studies have shown no association between intramural (IM) fibroids and in vitro fertilization (IVF) success [4, 5], while others have indicated the presence of IM fibroids reduces the success of IVF cycles [6, 7]. A meta-analysis of 19 observational studies suggests that non-cavitary-distorting IM fibroids have a significantly reduced clinical pregnancy rate and live birth rate (RR of 0.85, and 0.79, respectively) in IVF cycles [8]. However, many of the early studies assessing the effect the IM fibroids on fertility do not stratify by fibroid size or location, proximity of fibroids to the endometrium, age of the patient at time of diagnosis, or the method the fibroid was detected. These factors limit the applicability of these studies to clinical practice. A recent study delineated fibroids into two categories: fibroids smaller and larger than 2.85 cm, and found that the effect of fibroids impairing delivery rate after IVF did not become significant until fibroids reached a size greater than 2.85 cm [9]. While this study does address myoma size, it fails to mention proximity of the fibroids to the endometrial cavity. The Federation Internationale de Gynecologie et d'Obstetrique (FIGO) released a leiomyoma classification system to assist in classifying and treating abnormal uterine bleeding [10]. It is not clear if this classification system will assist in a better understanding of the effects intramural fibroids have on reproduction and pregnancy loss. The disparity in the current body of research illustrates the need to better characterize the impact of fibroid size, location and number on reproductive health.
Uterine fibroids have distinct gross and microscopic morphologic findings that distinguish them from malignancies. Several subtypes of leiomyomas exist, as shown in Table
1
. The varying gross and morphologic presentation of uterine fibroids (Table
1
) demonstrate the limited understanding about the effects of this variable benign tumor on human fertility. One such fibroid subtype, leiomyomas with bizarre nuclei (LBNs), has recently been linked to higher levels of a regulator of apoptosis, MIB-1 (mindbomb E3 ubiquitin protein ligase 1, also referred to as Ki-67) in the endometrium [
11
]. MIB-1 is also elevated in endometriosis [
12
]. This finding may suggest that not just fibroid size or location, but even fibroid morphologic subtype may play a role in subfertility seen in patients with uterine fibroids. There is currently no evidence that imaging can accurately identify morphologic subtypes, which makes diagnosing fibroid morphology subtypes during pregnancy not possible. Further research may correlate leiomyoma microscopic subtypes with different effects on human fertility.
Table 1
Leiomyoma subtypes and associated microscopic findings
| Benign leiomyoma subtype | Microscopic findings |
| --- | --- |
| Benign leiomyoma | Findings include fascicles of spindle cells mixed with varying levels of collagen. Large blood vessels are present, and there is mild to absent cellular atypia and mitosis [58]. |
| Mitotically active leiomyoma | Fibroid findings include necrosis, hemorrhage, vascular intrusion. Contains 5–9 mitotic figures (MF) per 10 high power fields (HPF) with no atypia [59]. |
| Leiomyomas with bizarre nuclei (LBNs) | Microscopically, LBNs have the presence of aytipical pleomorphic nuclei. They may have high cellularity, and contain 2–7 MF/10HPFs [60]. |
| Hydropic leiomyoma | These fibroids have focal collections of edema-like fluid and show hyaline degeneration [61]. |
| Myxoid leiomyoma | Findings include large collections of acellular myxoid matrix, rich in acid mucins. They demonstrate a low mitotic rate (<2 MF/10 HPFs) [58]. |
| Epitheloid leiomyoma | These benign leiomyomas have at least 50 % of cells as epitheloid, but demonstrate a low mitotic rate (<3MFs/10HPFs) [58]. |
Surgical removal of fibroids via myomectomy has been long purported to improve fertility in patients with infertility secondary to myomas [13, 14]. While there may be a small protective benefit of myomectomy for spontaneous abortion, the evidence to date does not suggest that myomectomy for IM fibroids improves pregnancy rates and ongoing live birth rates [15, 16]. There are a limited number of well controlled studies to address the efficacy of fibroid removal and as mentioned above, additional research is needed to address the impact of fibroid size, number, and proximity to the endometrium in intervention trials as well [17]. While reviews have previously addressed potential pathophysiological implications of uterine fibroids, none have focused on the pathophysiological effects IM fibroids may have on fertility and pregnancy loss [18]. The goal of this manuscript is to provide as a narrative review of the literature for potential effects that uterine fibroids may have on normal fertility, with specific attention to intramural myomas. Information included in this review was obtained via PubMed searches for articles published in the English language from the year 1960 to 2014. The following key words were used in to reveal articles of relevance: "leiomyoma", "myoma", "fibroid", implantation", "peristalsis", "IVF", in vitro fertilization", "fecundity", "myomectomy", and well as the titles of known endometrial markers of implantation. Case reports or descriptions of therapies without information regarding evaluations of fertility were not included in this review. The potential effects of intramural fibroids were separated into alterations in implantation factors, alterations in the uterine junctional zones, effects of the fibroid pseudocapsule, and abnormal uterine peristalsis.
Conclusions
Very little is known about the mechanism by which intramural fibroids impact human fertility (see summary of current known data in Fig.
1
). Molecular detection of uterine implantation factors that demonstrated significant findings in patients with submucosal fibroids, often demonstrated a non-significant trend towards similar findings in intramural fibroid patients. More robust study design and higher numbers of patients are needed to maximize the potential of detecting a smaller but important difference. The use of MRI to detect uterine peristalsis is very promising, but further widespread application of this technique is needed to see if both the frequency and impact of this phenomenon with intramural fibroids.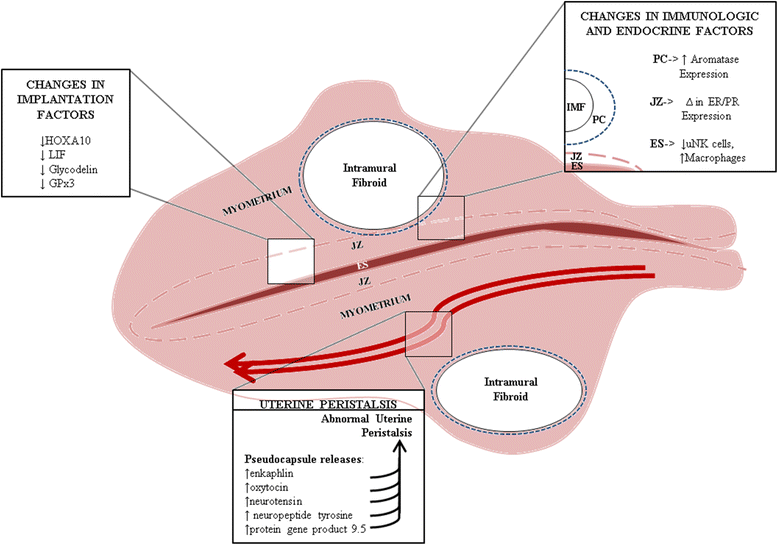 Future studies should be designed comparing infertile women with intramural fibroids as the only cause of infertility, or patients with IM fibroids and recurrent pregnancy loss, to fertile women without uterine fibroids. In addition, implantation factors should likely only be measured in their time of highest expression, during the window of implantation. Further studies are needed after myomectomy, uterine artery embolization, MRI guided high frequency ultrasound therapy, and various medical therapies to provide insight following therapy designed to improve fertility but lacking rigorous proof.
Declarations
Open Access This article is distributed under the terms of the Creative Commons Attribution 4.0 International License (http://creativecommons.org/licenses/by/4.0/), which permits unrestricted use, distribution, and reproduction in any medium, provided you give appropriate credit to the original author(s) and the source, provide a link to the Creative Commons license, and indicate if changes were made. The Creative Commons Public Domain Dedication waiver (http://creativecommons.org/publicdomain/zero/1.0/) applies to the data made available in this article, unless otherwise stated.
Authors' Affiliations
(1)
Division of Reproductive Endocrinology and Infertility, Department of Obstetrics and Gynecology, The University of Alabama at Birmingham, Birmingham, UK